The New York Red Bulls are second to none in the New York area in terms of training expertise. With over 80 coaches on staff, the New York Red Bulls are committed to sharing a love of soccer with young people. They are professionals with a highly developed curriculum and high standards for the trainers in their organization. Trainers are selected through a competitive process. Over 500 trainers from around the world compete for each training position. After initial selections are made, a group of 150 trainers are brought in for face-to-face interviews and an on-field practical sessions. The trainers are evaluated on number of factors, including their expert knowledge of the game and their ability to communicate with and engage young players. Trainers receive weekly professional development training during the season as well as periodic evaluations.
Beyond the New York Red Bulls' excellence on an individual and group level, the New York Red Bulls and WSSL have the same philosophy regarding player development. Young players need to be inspired. They need to have fun. They need to be given the tools to develop mastery, to build confidence, to become a skilled player.
Building Blocks of Player Development
Season Development Plans
Training Session Plans
Game Analysis
Team Evaluations
Player Evaluations
Access to Professional Soccer
Developmental Emphasis
Trainer Selection Process
Building Blocks of Player Development
The training program for the WSSL Red Bulls Travel teams is built on three methodologies:
Inspiration: Players need to be inspired to play soccer and to love the game
Expert Coaching: Trainers share their expertise to inspire young people and to demonstrate how to play at a higher level
Repetition: Players improve through multiple touches on the ball and many opportunities to learn what is needed to be successful
The training is supported by these essential elements and training sessions include a progression of activities that are designed for each team according to 1) what is age appropriate, and 2) what is most needed by the individuals and overall team (determined by assessment). The building blocks include: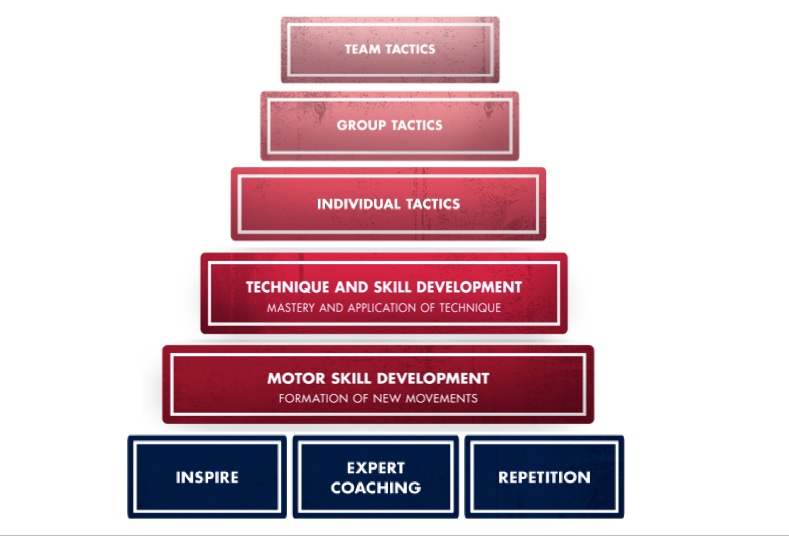 Season Development Plans
Every season, each team receives a Seasonal Development Plan. The plan is based on an overall evaluation of the team and individual strengths and weaknesses. The plan overview highlights Targeted Key Learning Outcomes of Training in four main categories:
Technical
Tactical
Physical
Psychological
Each team's specific Season Development Plan outlines a 10-week approach designed to strengthen the skills of each player and the team as a whole. Each week, training focuses on a specific theme. While adjustments are made during the season to accommodate the team's development, it is important to note that training is not derailed because of a particular mistake made in a competition. Issues are addressed, of course, but the season is not focused on each match and on correcting mistakes. Training is driven by a steady and comprehensive approach to learning.
The overall themes of weekly training include:
Dribbling & Ball Mastery
Shielding & Distributing
Passing & Receiving
Possession & Combination Play
Attacking Principles (level 1 & 2)
Shooting & Finishing
Detailed Training Session Plans
Every session of every week follows a plan (outlined above). Each trainer shares a weekly training plan with the Parent Coach. The training plan for one session focuses on particular them (e.g., Dribbling & Ball Mastery) and progresses as follows:
Warm Up: Each element builds on the next and grows more complex.
Main Theme: Each activity or drill builds on the next and grows more complex to challenge the individuals and the team as a unit.
Conditioned Game: Controlled game scenarios put the skills and understanding to the test for the players and the team.
Each of the eight parts of a training session include specific planning of how each session is organized on the field, the specific instructions for each segment, the key coaching points and the progressions for each activity.
Every training session is incredibly focused and intense with not a minute wasted. Every WSSL Parent Coach -- whether in Core, Tournament or Travel -- has the opportunity to receive a personal log in that gives them access to an extensive library of lesson plans and videos.
Game Analysis Reports
The WSSL Red Bulls trainers attend many matches with the teams they train. They work directly with the Parent Coaches to guide the team. Following each game, the trainer provides a specific Game Analysis Report that includes:
End of Season Team Evaluation
Each team, via the Parent Coach, receives a full team evaluation. This is instrumental in the development of a plan for the following season. The evaluation provides specific feedback performance in training and games throughout the season. Each evaluation addresses the intended learning outcomes and a narrative section with evaluative comments on the team's and players' development regarding:
Dribbling & Ball Mastery
Shielding & Distributing
Passing & Receiving
Possession & Combination Play
Attacking Principles
Shooting & Finishing
End of Season Player Evaluation
Every single player in WSSL's travel program receives a personal evaluation of their progress and their skills at the end of each Fall and Spring season. This kind of evaluation is designed to congratulate the player on his/her accomplishments as well as to help them understand what s/he needs to do in order to reach the next level. The evaluations are detailed and in narrative form.
Access to Professional Soccer
WSSL has season tickets and works with each team to arrange at least one team outing to see the New York Red Bulls take on their MSL competitors. Seeing the game is a very important part of playing the game. Kids watch, are inspired and see the field in a different way. It is critical for kids to connect the soccer that they play with a higher level of excellence in order to advance as a player.
Emphasis on Development Over Winning
For the most part, particularly in the younger ages, we believe that development is more important than winning. There is a point where development and winning matches become equals, but winning never trumps development at any level.
Selection Process for Trainers
Local & International: New York Red Bulls trainers represent a team of professionals who are career coaches and at the top of their trade.
Extensive Recruitment Process: Before being selected, the trainers go through an extensive and rigorous recruitment process. For every 25 trainers hired, the New York Red Bulls interview and evaluate the training skills of over 500 prospective trainers.
Credentials & Experience: Each and every trainer has advanced level qualifications AND extensive youth training experience. It is not enough for a trainer to be skilled. To be a part of our program they must also be skilled at working with and inspiring young people.
Weekly Professional Development: Each and every trainer participates in weekly professional development training from the New York Red Bulls organization. It is essential that they continue to hone their skills as trainers in order to provide the best possible training to our children.
Trainer Evaluation & Feedback: Finally, ongoing assessments of each trainer are conducted to ensure the highest level of training quality available.